THE FRET FILES PODCAST
A podcast about guitar repair, guitar building, guitar news,
guitar science, and guitar opinions. Hosted by Eric and Melissa Daw.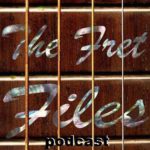 Eric Daw, a 20 year guitar repair veteran, talks guitar tech, guitar repair, guitar tools, guitar building and all things relating to the art of guitar craft with his wife and co-host Melissa Daw. Eric takes calls, reads emails, and interviews a myriad of interesting guitar people.